The last couple of years has been anything but normal. With rising labor costs and a shrinking labor pool, there's an emphasis on improving operational performance to stay competitive. The question is – what tools and processes can your organization implement to help get achieve the gains you need?
THE PROBLEM
When you look at advancements in productivity over the last couple of centuries, nearly all of them have one thing in common: taking a repetitive manual task and automating it. While the technology in commercial laundries have come a long way over the last few decades, there are still many processes stuck with manual work that should be automated.
With 51 percent of small business owners reporting they have jobs they cannot fill, it's more important than ever to make every hour count. Take a step back and estimate how many hours your team allocates each week to collect, input, and analyze the data from around your plant. If only there was a way to collect this valuable data, while eliminating those hours.
SAVE TIME AND IMPROVE DATA INTEGRITY WITH SPINDLE
For a fraction of the price of a full-time employee, Spindle automates the collection of data across your entire operation and displays the real-time analysis of your operation in dashboards designed to make your numbers easy to understand. This not only saves you and your team precious time, but also reduces the exposure to human error in the process. Ensuring the data you do receive and act on is accurate and objective.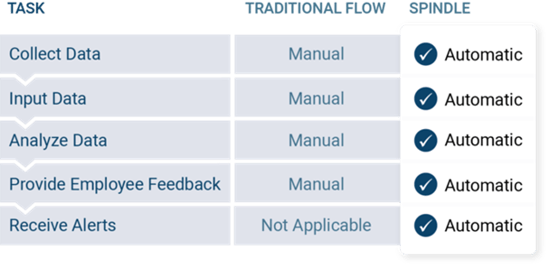 WE'VE MOVED FROM AUTOMATING PROCESSES TO AUTOMATING BUSINESS DECISIONS
Spindle has always been a powerful tool to collect, store, and analyze the data collected throughout an operational facility. With the recent introduction of the Facility Health Page, Spindle has moved from automating business processes, to automating business decisions by providing prescriptive analytics to all our customers.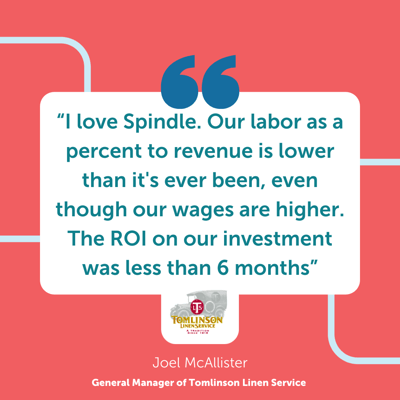 Utilizing over 120 million data points every day, we've identified what powers the most efficient laundries and translated best practices into a model that accurately assists you in identifying the next best action to limiting your expenses.
With the Facility Health Page, you're able to:
Check your operations health with our Facility Health analysis tool

Instant insight into each department's opportunity

Real-time view of your operations most important KPIs

Prioritize operational issues and decide what to fix first

Visualize operational improvements day over day
PROVIDE IMMEDIATE FEEDBACK
Employees can view where they stand against their performance goals and receive immediate feedback based on objective real-time data. We've found that productivity increases by 5-10% by simply adding a visual workplace.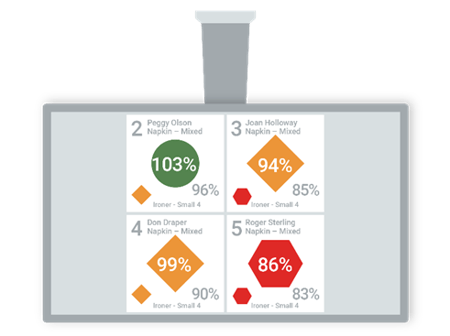 FIND THE SOLUTION THAT'S RIGHT FOR YOU
By having all your operational data in one place, Spindle helps break down silos and connect all your teams. Start with one solution and add on as you go: